The Prequel to Fear of the Dark .
Starring C.J. DiMarsico, Fangoria Magazine's Managing Editor, Michael Gingold, Mike Lane, Joe Lauria, Danielle Russo, Ed Shelinsky, and John Sudol
Featuring Herb Smithline, Mark Yonick and Suzi Leigh and Introducing Mike Valenzano as Oscar Valentine
Makeup and Special Effects by Gene Mazza and Brian Spears.
---



copyright © 2001
IMDB Listing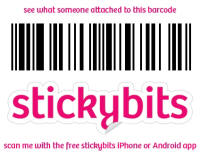 ---
The Tenement BANNED IN INDONESIA!!
click here to order the Tenement today!!
VHS Specs:
The Tenement (Movie Only Running Time 118 mins.)
Brain Damage Films Trailers

DVD Specs:
The Tenement (Movie Running Time 118 mins.)

BONUS MATERIAL (3 hours):
RUNNING COMMENTARY with:
Glen Baisley (Writer/Director/Producer)
Diana Baisley (Production Assistant/Red)
Michael Gingold (Managing Editor of Fangoria Magazine/Winston Korman)
Mike Lane (Jimmy Wayne Garrick)
Jude Pucillo (The Super)
John Sudol (Henry Wallace - "The Neighbor")

The World of Light & Dark
The Winston Korman Movie Marathon (with shorts "Jack & Jill" and "No Trespassing")
Anatomy of Horror: The Making of a Mask
5 Deleted Scenes
Alternate Opening
2 Alternate Endings
2 Uncut Exotic Dancer Scenes
Bloopers, Gags & Behind the Scenes
The Light & Dark Publicity Tour
2 Photo Galleries (Over 100 Pictures) with Sal Sirchia singing "Can't Love Without You"
Movie Trailer and Brain Damage Films Trailers
Gag Ending with Credits
Note: "Easter Egg" Gag Ending is uncredited in the menu and follows the
Light & Dark Publicity Tour.
---
The Tenement is also available in a movie only version as part of a Pendulum Pictures 6 Movie Pack (2 DVDs) called Beastly Butchers and in a 50 Movie Pack (12 DVDs) called Catacomb of Creepshows.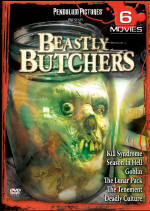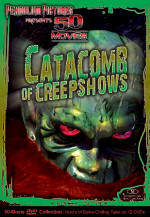 IMDB Listing
Order it from Amazon.com. Order it from Amazon.com.
---
There is something inherently evil within The Tenement. It does something strange to the people who live there. Imagine a building that can change who you are and the way your mind thinks. Ethan lives in this building and is obsessed by horror films. His destiny lies in the shadows of a black rose - the symbol of decayed innocence. This begins the series of murderous events among the tenants of this mysterious building. Four lives are changed forever by the evil that dwells within. The serenity of comfort is removed from home when you sign a lease at "The Tenement."
In an effort make navigating this section of the site a little easier, I broke the movie down into sections with plot details surrounding each character. Clicking on each heading will take you to that section.
Section 1 (Fade To Black) - The origin of Fear of the Dark's Black Rose Killer - An obsessed horror fan in his late twenties and still living at home with his invalid mother, auditions for the role of a killer in the sequel to his favorite horror movie.
Section 2 (The Sound of Silence) - Sarah, a mute girl spends her life listening to the songs on the radio. One day a neighbor, who always spies on her, follows her family upstate and breaks in when her parents are not home.
Section 3 (Full Moon Rising) - Jimmy Wayne Garrick, a neurotic man, is bitten by a wild animal and believes he is becoming a werewolf.
Section 4 (The Taxi Driver) - A taxi driver picks up customers only to murder them later.
In-Between Story (In the Neighborhood) - In-between the stories there will be an ongoing story that ties the others together. Some of these characters are featured within the stories as well.
Winston Korman Movies (appear in Fade to Black) - Fictitious movies by the nefarious director Winston Korman.
Dead To Rites (opening story) - The Ancient Order of the Rose led by Rellik, the Chosen One, abducts men and women and ritually kills them in order to cleanse the world of "sinners."
Jack and Jill (during Fade to Black) - Jack and Jill meet Sling Blade Bob in an abandoned tower.
No Trespassing (during Fade to Black) - The Sistine Slasher is on the loose.

For More Information Contact:

Light & Dark Productions
PO Box 21
Lake Peekskill, NY 10537
Telephone: (845) 526-6118
Internet: LghtandDrk@aol.com