LIGHT & DARK'S PUBLICITY TOUR 2009
---
Spring 2009 June 2009 June 2009
---
The Monkees singer Micky Dolenz was among the many celebrity
TV stars at this year's Chilller Theatre convention.
Edward James Olmos made his Chiller debut since Battlestar
Galactica wrapped.

I had the chance to work with Ian McCulloch (Zombie, Dr. Butcher M.D.)
for the GirlKiller trailer which will be part of a 3 disc set complementing
Stephen Romano's Shock Festival book.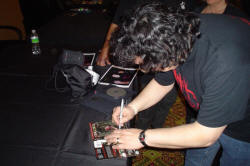 My buddy Sal signs a copy of Knock Knock before going on the prowl.
(Left to Right) Brian Spears (The Tenement, I Sell the Dead),
Oz co-star José Hernández Jr. and Miguel Núñez Jr.(Return of the Living Dead)
(Left to Right) Malisa Longo (Cat in the Brain),
Mick's daughter Ami Dolenz (Pumpkin Head II: Blood Wings),
and Erika Eleniak (Baywatch)
(Left to Right) John Russo (Night of the Living Dead),
John Wesley Shipp (Dawson's Creek) and William Forsythe (The Devil's Rejects)
Check out the You Tube video:
---
Fangoria Weekend of Horrors June 2009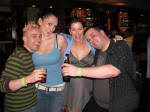 Mike Lane hanging out with
Caroline Williams (The Texas Chainsaw Massacre 2).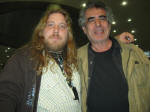 Who's the porn star?
Brian Spears with 70's porn star,
Jamie Gillis.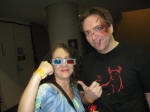 Two lucky fans of The Viewer
were treated to gashes and bruises
courtesy of Brian Spears.
---

Is it just me or was Monster Mania held at a much smaller
venue than usual?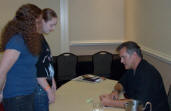 Only 400 tickets were given out to meet The Evil Dead's Bruce Campbell.
You had to meet at a designated spot at a designated time and then
groups were whisked away to another location at the hotel to meet him.
Welcome to Fright Night! Chris Sarandon told me
about the ongoing struggle to get a Fright Night
special edition out. A pirate commentary was
recorded by Icons of Fright and Shock N Roll.
The highlight of the con was meeting Jason Mewes (Jay and Silent Bob Strike Back).
From singing the Hannah Montana theme song to discussing how he would love
to commit sodomy on Selena Gomez (The Witches of Waverly Place); there's nothing
he wouldn't talk about. He even answered my question when asked if he ever fantasized
about Kevin Smith's wife. He said no but I don't believe him!
(Left to Right) Jasons from Friday the 13th Part 2 and VI - Steve Dash and C.J. Graham.
Jason's mother (Betsy Palmer) sporting "the sweater" and looking
as good as ever.
Friday the 13th 2009's new Jason (Derek Mears) was extremely humble
and very cool.
Many of the cast members from the original A Nightmare on Elm Street
were on there to celebrate the 25th anniversary.
Nancy's mom and dad (Ronee Blakely and John Saxon) and
Nancy (Heather Langenkamp). Heather was also shooting her own
documentary entitled I Am Nancy to be shown on her web site in October.
Nancy's friend Tina (Amanda Wyss) and Tina's
boyfriend Rod (Robert Rusler).
The ONE AND ONLY Freddy Krueger holds up
a glass sporting the Peekskill High School mascot,
a red devil, given to him by the class of '88.

My daughter loves the Nightmare rhyme so Robert Englund
did one of the coolest things ever. He recorded
a special message for her.
Editor/Reporter Eugene Driscoll interviewed me via USTREAM
about the convention and Sins of the Father and as usual, branded
it with his twisted sense of humor.
---
For More Information Contact:

Light & Dark Productions
PO Box 21
Lake Peekskill, NY 10537
Telephone: (845) 526-6118
Internet: LghtandDrk@aol.com