LIGHT & DARK'S PUBLICITY TOUR 2008
---
---
Fangoria Weekend of Horrors 2008
(Left to Right) Me, enjoying a freebie promotional pic for the Shutter DVD movie release.
It was fun at the time but in hindsight I look like a complete a-hole. Hanging out with the
two Mikes.
(Left to Right) Finally, a picture with my all time favorite horror icon Angus Scrimm (Phantasm) and the
picture comes out like crap.
Brian Spears hit on Kristina Klebe (Rob Zombie's Halloween), bought her a drink and had no idea who she was.
Me and Steve Gonsalves (Ghost Hunters) talking about hometown haunts.
Brian and director, Alan Rowe Kelly (The Blood Shed).
(Left to Right) The Albino Farm panel with Howard Stern's Richard Christy.
Richard: "Ah sh#t! Coon Dog went and ate Dumb Ass."
Richard and wrestler Chris Jericho sign autographs.
Brian kept boasting all weekend how he could kick Jericho's ass.
I grabbed the video below of Richard with my cell phone.
(Left to Right) Director Larry Fessenden (Wendigo) hosts the Scare Flix
panel and talks about I Sell The Dead.
Brian and Pete Gerner (G & S Effects) are there for the premiere of the movie's trailer.
Fessenden gives a shoutout to them for their makeup and FX work.
(Left to Right) Brian with Bill Hinzman (Night of the Living Dead).
Hinzman reminisces about how Brian recreated his classic makeup for Shadow: Dead Riot.
Hinzman with a few more stiffs.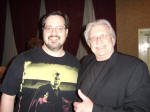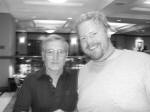 (Left to Right) "They're coming to get you Glen." The Light & Dark family
with Russel Streiner (Night of the Living Dead).
Chris Coyne (Fairview Falls) with Night of the Living Dead writer, John Russo...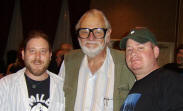 ...Brian with the Godfather of
all zombie flicks, George Romero.
---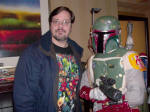 My pictures wouldn't be complete without an obligatory geek shot.
Bill Diamond Productions premiere MonsterTVNetwork.com.
(Left to Right) Ed Asner (Lou Grant) and George Kennedy (Cool Hand Luke)
still at it even in their golden years.
(Left to Right) Ralph Macchio (The Karate Kid), Richard Tyson (Kindergarten Cop)
and William Forsythe (The Devil's Rejects).
(Left to Right) Danny Woodburn (Conan and Seinfeld)
Jason Voorhees unite! Ken Kirzinger (Freddy vs. Jason), Steve Dash (Friday the 13th Part 2)
and Ted White (Friday the 13th: The Final Chapter).
Fabiana Udenio (Austin Powers) - I'd shag her!
(Left to Right) John Schneider bridging generations - My daughter wanted to see him because she loves
Smallville and my wife wanted to meet him because she is a big Dukes of Hazzard fan.
Corey Haim (The Lost Boys) - Yes, he's as crazy as they say he is.
4 hours and 40 minutes standing in line to meet Linda Hamilton (Terminator). Hands down, she was the
nicest celebrity I've ever met.
---
For More Information Contact:

Light & Dark Productions
PO Box 21
Lake Peekskill, NY 10537
Telephone: (845) 526-6118
Internet: LghtandDrk@aol.com