LIGHT & DARK'S PUBLICITY TOUR 2006
---
---
Chiller Theatre "Dead of Winter" 2006
(Left to Right) Warriors, come out an play!
Glen with Michael Beck and Deborah Van Valkenburgh (The Devil's Rejects).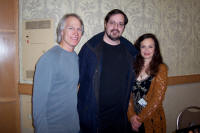 (Left to Right) Glen with Terry Moore (Mighty Joe Young 1949).
Glen and Mike with Adrianne Curry (America's Next Top Model & Playboy).
Who would have thought that Peter Brady would snag a hot chick like this?
(Left to Right) We need to change this site to www.TheMayor.com because
Sal is in more pictures than I am. Sal howls for Sybil Danning (The Howling II).
Kevin Clement (Chiller Theatre) suddenly realizes that having his own convention
has its perks.
(Left to Right) Sal with Deborah Van Valkenburgh. An Oz reunion - Sal and Ernie Hudson.
Sal chills out with Captain Lou Albano.
(Left to Right) "Psst. Sal, you think I can be in your next movie?"
"Sure thing, brother Mike."
(Left to Right) What would happen if Otis Firefly (Bill Mosely) and
Jane Wiedlin (The Go-Go's) had a baby? I didn't realize that Sal
knew Jane but then again Sal knows everybody!
(Left to Right) Jane pals around with Terry Moore.
Christopher Knight (The Brady Bunch) and Adrianne Curry - That
luck son of a ...
Sal with C. Thomas Howell - "E.T. Phone Home and tell Sal I need a new gig.
I'm tired of only being known for the Outsiders and working with a puppet."
(Left to Right) Ooh, Ooh, Ooh it's the Mayor of Rock and Roll and Ron Palillo (Welcome Back, Kotter).
Sal and Nichelle Nichols - Star Trek: The Geriatric Generation.
Sal watch out! Ray Park (Darth Maul) can kick your ass.
---
Another Chiller comes and goes. This one was plagued by torrential downpours.
Our new book, The Anatomy of Horror made its debut.
Mike wonders if he will be dead and buried before I get my next movie out.
Hot chick alert!
Star light, star bright will it be one of these gorgeous ladies or Rainbow Brite ;) Kerri Taylor
and Violetta stop by to say hello.
The party continues on into the night.
Everyone goes there separate ways. Brian and Pete seemed to have found their groove but
what the hell is Mike doing? On second thought, what the hell is Pete doing with that couple?
(Left to Right) Diana with Cerina Vincent (Cabin Fever), Anulka Dziubinska (Playboy, Vampyres)
and Alan Ruck (Spin City, Ferris Bueller's Day Off).
Sal's in so many pictures we might as well start calling him The Mayor of Light & Dark. Here he is
with Dee Wallace Stone (E.T., The Howling). Who's scarier, The Hills Have Eyes (2006) brothers
Goggle and Lizard (Ezra Buzzington and Robert Joy) or Sal?
Sal turns on the charm with former Playboy playmates Sandy Taylor and Cathy St. George.
Finally, Sal hangs out with TV dads, John Wesley Shipp (Dawson's Creek) and
Michael Gross (Family Ties).
---
There's nothing like a little head. Everyone has fun with Mike Gingold's head.
Speaking of head... A happy customer sports a barbed wire crown on her
that was made by Brian Spears.
(Left to Right) Glen with the lovely Camille Anderson (Wedding Crashers).
Priscilla Barnes and Joyce DeWitt (Three's Company) prove they still have it.
Glen and Sal hang out with Christopher Atkins (The Blue Lagoon).
(Left to Right) Sal Sirchia promotes Knock Knock with director Joe Ariola and
co-stars Erika Jai, Joli Julianna, Lou Savarese (former Heavyweight Boxing Champion)
and Anthony Palladino. Sal hangs out with Brinke Stevens, Lisa Loring (The Adams Family),
Robert DeNiro impersonator, Joseph Manuella (Searching for Bobby D) and Pee-wee Herman
(Paul Reubens).
---
Fangoria Weekend of Horrors Fall 2006
Mike Gingold stops by the Light & Dark table to admire his head from The Tenement.
Hey it's Grand Funk Gingold.
Mike meets R. Lee Ermey (The Texas Chainsaw Massacre: The Beginning)
Mini-Jason holding Brian Spears interpretation of Jason.
The Light & Dark gang meet some celebs - Twisted Sister's Dee Snider,
Robert Kurtzman (K.N.B EFX Group) and Judah Friedlander (Feast).
Mike Lane (Tenement, King of Fighters 2006),
Brett Fallon (Hell on Earth, Fairview Falls), Mike Gingold, Brian Spears,
Glen and Allen Rowe Kelly (The Blood Shed) hanging out.
"Hey Glen, have another drink."
"I know I'm going to puke after eating this pizza."
Mike and Glen are interviewed by Digger Films for a documentary
about independent films.
Sal Sirchia (Tenement, Knock Knock) makes his usual rounds -
Brett, Raine Brown and Joe Zaso from Angel's Blade
Sal pals around with Troma's Lloyd Kaufman.
He hangs out with The Toxic Avenger and Troma alumnus, Debbie Rochon.
---
For More Information Contact:

Light & Dark Productions
PO Box 21
Lake Peekskill, NY 10537
Telephone: (845) 526-6118
Internet: LghtandDrk@aol.com